This is a guest post courtesy of Yeremi. You probably already know list building is important as an entrepreneur.
But everyone has different strategies when it comes to growing that list.
Some work…
Some… not so much.
Needless to say it can be difficult to separate the wheat from the chaff so to speak.
That's why Yeremi has put together this whopper of a guest post, just for you dear readers. 😉
He's giving you 6 solid strategies he's used successfully himself, straight from his own trial by fire.
I'd recommend reading it and mayhap even printing it out for easy reference. And do feel free to drop questions or comments in the box below.
The money is in the list.
If I had a dollar for every time I was told that, I would not need a mailing list to live the "Internet Lifestyle".
Every online entrepreneur agrees on this one thing, but sadly, few have really taken time out to go in-depth on the topic recently.
I remember searching and implementing a lot of list building tips when I started out as an online entrepreneur with varied degrees of success, and thinking, what if I could publish a list of what has worked for me, so that people reading would have a targeted area to concentrate their list building efforts on?
This post is the answer to that prayer.
Of course, I do not mean that there are no suitable trainings available on this subject. I have to mention the post by Anna Hofmann with 20 tips on list building. It is a useful guide to the beginner online entrepreneur.
But then, that is a long post with plenty of tips.
In this post I am going into some more advanced techniques for those who need a tightly-focused approach to list building.
Start a Membership Site
Having a membership site is a cool way to gather a list without making them feel they are being pushed into something.
Here the trick is to place as many resources as possible available for download in the membership area.
Whenever you add new content, make sure you let the community know.
Create a resources page and link to your membership area from there.
From time to time, link to the membership section of the site from your posts to ensure that your audience never forgets there is a cache of content available for them if only they would just sign-up.
Believe me; people prefer to sign up for a membership than to sign up for a mailing list.
You are just giving them what they want.
How do you implement a members only area?
If you are a low or zero budget, then I would recommend you use WordPress's protected post feature to create an area only your members can access.
Protected What?
Step 1: Create a signup page. It can just be a simple page with only your Aweber form.
Step 2: Create a normal WordPress page and set the visibility status to "Password Protected".
Enter a password in the password field shown in the image below.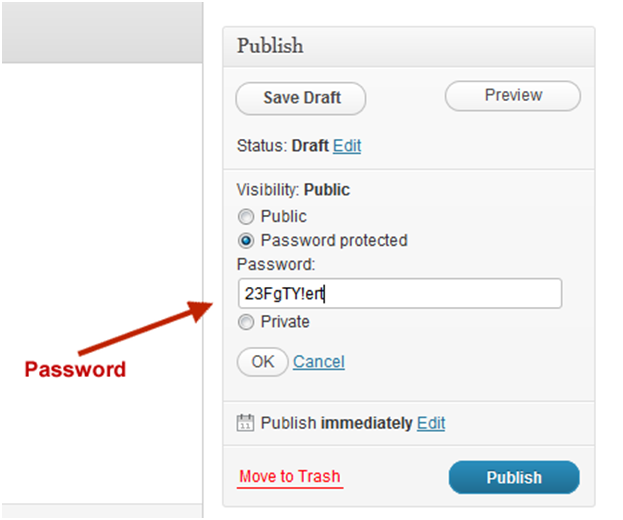 This page can contain links to all your downloadable materials, and you can be confident that only those who have subscribed to your list will have access to them. (BGB's note- It's also probably a good idea to change this password on occasion to preserve security as much as you can, and then notify your list whenever you do.)
Step 3: Create a custom thank you page for the signup page you created in Step 1. This is the page people will be directed to when they sign up for membership. This page can display the password. Alternatively, you may choose to deliver the password by email.
Note:
If you chose to display a password on this page, remember to set the page as no follow and no index, so search engines will not index the page and bring traffic directly to it.
Don't know how to make a page nofollow? Install Easy Noindex and Nofollow WordPress plugin.
For those who have a little money to spend, you could go all out with a paid solution like WishList Member.
Giveaway Great Stuff with No Opt-in
This is a list building method that has generated some controversy, but to me it makes perfect sense.
Requiring people to sign-up before they have access to your giveaway has created a "freebies bandit" pool of subscribers, who jump out of your list as soon as they download whatever material you give them.
Create something very awesome, the best you can possibly give without going broke, and then give it away for free. Do not even ask for an email address in exchange for it.
Of course, it will be smart to add an email form to the download page for the occasional visitor who would want to sign-up before downloading.
Why does this work?
It is purely psychological.
When you give such awesome content away for free, you gain the respect of your audience and they then want to be on your list.
You have presold them already and the bulk of the work has been done.
Just make sure you have email forms all over the place so when they are sold and come to sign-up, they do not have a hard time finding your opt-in form.
Andre Chaperon has used this method for years and despite the fact that his email list is smaller than that of most of his peers, he is reputed to have outsold many of the gurus with lists ten times the size of his in the affiliate marketing space.
Why is that?
I said this before and I will say it again.
Those who sign up to a list that is not required, do so because they want to be on the list.
People in that list often become ultra-responsive.
Their thinking is, if he gives this away without collecting an email, I wonder what he gives to those on his mailing list.
Makes sense, huh?
That is the kind of list you want to create.
Start an eCourse
The problem with eBooks is that everyone seems to be offering them, and people are getting immune to the pretty covers.
Do something different.
Offer free video training instead.
If you think you have no content to add to your video training, then I am sorry to disappoint you.
You blog posts in one subject area can be converted to Powerpoint Presentations and used to create videos.
You can easily turn that presentation to video using software like Windows Movie Maker.
The Money is in the

Trust
Capturing your visitor's email is important, but it makes absolutely no sense if you cannot capture their trust.
Your goal should be to make your mails so useful that your subscribers look forward to them. You should get them to the point that they drop whatever they are doing when your mail comes in.
You will not achieve that level of dependence from your audience by bombarding them with sales pitches.
Send useful tips and training they will be happy to receive, and once in a while, send them a mail with a sales link. Of course, your sales mails should sound as friendly as the tips you send.
Be consistent in the frequency of mails you send, and stick to the schedule unless something important comes up that cannot wait.
When people do not hear from you for long, they forget about you and your list becomes cold. When you finally get around to sending them a mail, they'll just opt out or accuse you of spamming them.
Subscribe by Comments
When someone leaves a comment on your blog, they have to enter their email. Most likely, the email they enter is their most valid email since they set their Gravatar on it.
It is a smart move to allow them subscribe to your blog at that point, and add that email to your list.
How I implemented this on my blog was by using Aweber's Web Form WordPress plugin which adds a "Subscribe to My Newsletter" checkbox to the bottom of comment forms.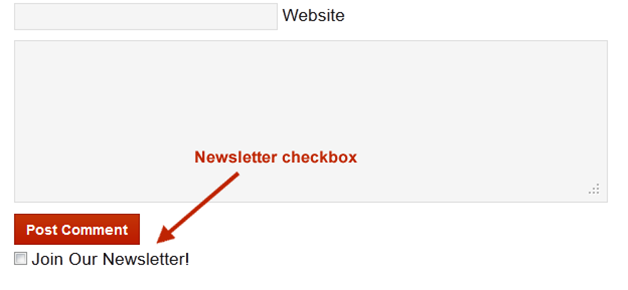 When a user checks that box, he is automatically added to your email list as soon as he posts his comments.
Link to Your Opt-in Page from Guest Posts
I know reading this you will conclude I am asking you to add a link to your squeeze page in your byline, but that is not what I mean.
Now do not get me wrong, there is nothing wrong with a squeeze page link in the author byline. It's just that I believe you can do better.
Put the link within the content itself.
How do you achieve that without annoying the blog host?
You do that by creating a special gift for readers of the host blog.
The example below is an actual gift I have created for members of the BGB community.
My Special Gift for BGB Readers
I feel honored to be featured on this platform, and in appreciation I have created a gift I have called Traffic Overnight for members of this audience who take the time to step over to my site.
Just head over to Pro Blogger Tips, drop your email and I will send you the download link to this fluff-free video training.
This is what you will get:
How to get 1000 plus automatic backlinks
How to create professional videos in 15 minutes
How to use press releases to boost traffic
Thanks so much for reading my guest post and can't wait to see you over at my blog.
[End of example]
This system works like crazy in building a list fast.
Most of all, it is not unethical.
You are adding value to the community and even giving the members something useful as an extra.
You can see this strategy in use by Maneesh Sethi on his guest post on Think Traffic and by Grant Hensel on his guest post on YoungPrePro. Both of them have reported huge successes.
Of course, not every blogger will want to publish a post with your opt-in links in them. The trick is to deliver "epic shit" so that they won't be able to resist your content.
Hehehe… epic shit delivered. 'Nuff said. 😉 Kay boys and girls… if you liked this post or found it at all useful, I'd love for you to help share it with others. Later 'tater!