This is a guest post contributed by Adam Powers on Miz Snook-ay Snook-ay.
Why would you want to read such a post you ask?
Well… barring the inevitable "BECAUSE I SAID SO" shout, I recommend you read it because you might just learn a thing or two about growing a brand.
People like Snooki don't just "fall into" fame and build loyal followers (well… at least I don't believe they do despite all evidence to the contrary). Bottom line is they know stuff and you can glean some of what they know simply by observing them.
Then depending upon your own savvy, you can then take those gleanings you observed and apply them to your own business and brand. Now BOOYA. Good enough reason to read? 😉 
Oh and please give Matt a warm welcome, he's new 'round here. Peace.
Back in 2008, Nicole Polizzi was a regular 21 year old woman, who lived in Marlboro, New York with her parents, liked a specific type of guy and loved to drink.
Now she is making millions of dollars.
What has changed since 2008?  Absolutely nothing!
Today, she is referred to more as "Snooki" than Nicole.  She's a few years older, still chasing "guidos", flashing her underwear in the club and drinking till she can't stand.
But she is also one of the most popular characters on MTV's hit reality show "Jersey Shore" which has become the perfect platform to market her brand appeal.
Identity
Because of the popularity of the show and her wild and crazy antics she quickly developed quite the following.  In 2010, Snooki was one of the top celebrity Halloween costumes according to People Magazine.
The costume itself is pretty simple — a black wig, Bump-It, spray tan, push-up bra and an outfit that has some sort of leopard/zebra print – but that's the beauty of it, Snooki's marketed herself that way since day one of the show, again absolutely nothing changed.
While some may think her style and outlandish outfits can be hard on the eyes, she can easily be picked out of a crowd.
Snooki is recognizable, just like the golden arches of McDonalds, Nike's swoosh, or the half eaten apple of Macintosh.  When building a brand don't be afraid to be a little different or unique.  It's important to separate yourself and stand out.
Being Social
Snookers is now the spokesperson for "guidettes" – females, usually of Italian-American descent who are loud, free speaking individuals with dark tans; that wear extravagant makeup and like their male counterparts.
Along with guidettes, the fans of the show and people who actually look up to her (yes, I'm sure those exist somewhere) have given her an audience to begin building her brand.
Snooki currently has over 4.6 million Twitter followers and 1.7 million likes on Facebook.  While sometimes you may not be able to understand what she's saying at 4 in the morning after a night at Karma, when Snooki tweets, people listen.
She has the potential to reach about the same amount of people as the monthly unique web visitors to reddit (2 million), Digg (2.5 million) and Mashable (2.7 million) combined.
Having a strong social presence is another important factor when building a brand from scratch. Although we all wish for the 7 million supporters like Snooki, whoever does end up following your brand is doing so for a reason.
Keep them informed, offer discounts, coupons or advice.  The more involved you are, the more potential to see big returns!
Consistency and Expansion
The key to her success has been to stay true to youself, a similar belief to what "Lady Gaga" preaches (but I don't know if I really believe that one).
The Snooki Shop enforces her Jersey beliefs with big eyeslashes, extravagant handbags and her famous "crocodilly".
Her signature style doesn't stop there either.  She has her own line of slippers that she made famous stomping around the Shore house with and has randomly become a New York Times best-selling author by speaking about what she believes in.
All the negative attention in the world hasn't brought her down either.  While some may watch week in and week out to see if she'll get knocked out again or thrown in jail, Snooki hasn't let any of the negative attention affect her.
She has carried on and continued to expand her brand.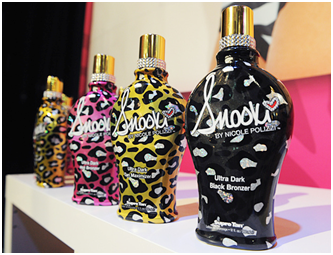 For the entrepreneurs of the world, it's hard to for me to say but…take a lesson from the Snookster.  Stick to your roots.  Find your niche and push that hard.  As time goes along its okay to look into other avenues, however don't venture too far away from what got you there in the first place.
Later this year, Snooki will have her own spin-off show with her best friend JWwow, mobile games and apps, her Supre Tan indoor tanning products and a primetime HSN event where she will premiere a new perfume.
There's a lesson here and it's not that drinking in excess equals success, it's stay true to what your company stands for.  If you run a gym, don't market yourself at a pizza joint, but maybe at a Subway.
If you own a high end furniture store, don't hand out cheap plastic merchandise and if your company prides themselves on virus removal, don't watch porn at work.
 Alrighty tighty… if you liked this post do BGB a solid and share it with your pals. And even better… tell Matt you liked it in the comments below. He'll be grateful, I'll be grateful, we will all have one big gratitude-fest. Sounds kinda fun right?