Hey BGB'ers… Happy Monday! 🙂
Just wanted to do a bit of a more personal post today and share some of my life with you.
I haven't posted much on the personal end since my Dad died.
But I did announce in 2010 that my guy and I finally got engaged.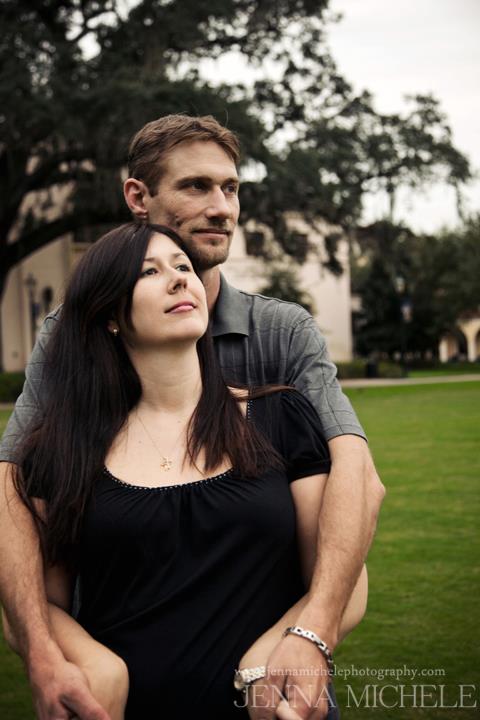 And despite all the roadblocks the last two years have thrown our way, the big day finally was set and came on January 30th of this year.
And we just got our pics back from our photog so I'm excited to share a few with you.
We also will have a short highlight reel within the next month or so with video, which I'll share here too once I get it, but in the meantime… I hope you enjoy the photos. (I think they came out phenomenally well, even if I'm a wee biased.)
Also special thanks to Orlando-based photog Jenna of Jenna Michele Photography for her hard work and fabulous eye, and her sidekick photog Cat, hardworking as well, with an equally fabulous eye.
Without further ado, here are some of the photo highlights… I wish I could post them all but there are a good 1300+!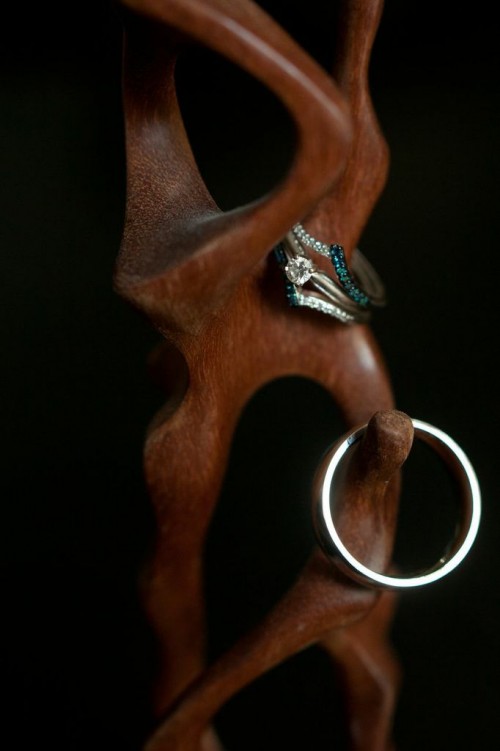 The rings! Such a pretty shot.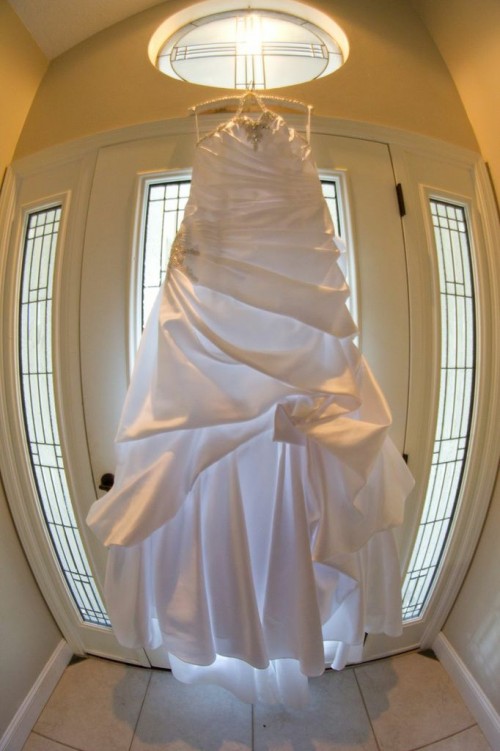 The wedding dress. Took me FOREVER to find something I liked, but I think I made a good choice.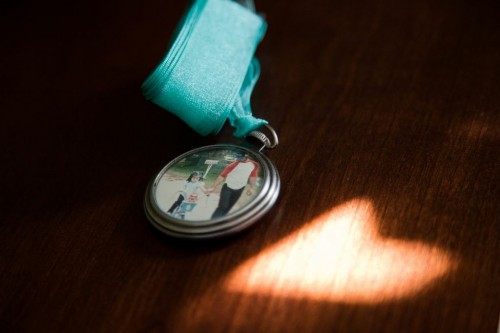 This looked like a heart next to the locket of my Daddy, which was a gift from my Mom. We took that to mean he was with us and watching over the big day.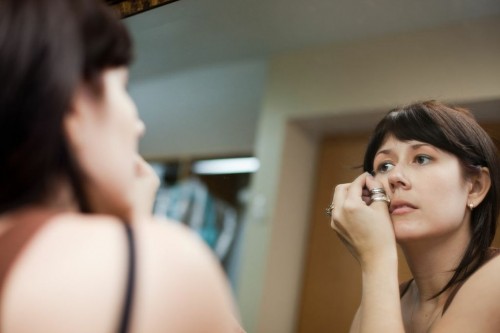 Getting ready and putting my face on. hehe
Helping Daddy put his boutonniere on just right.
Hubby's sexy man hands.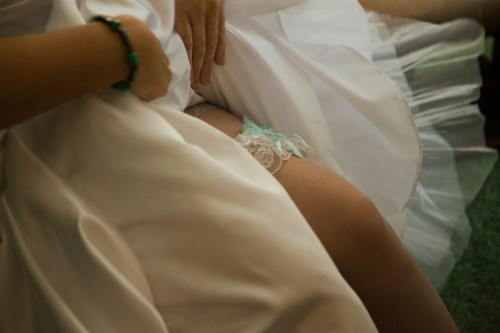 My sister had to help me put this bad boy on. I couldn't bend enough to reach my toes in that dress!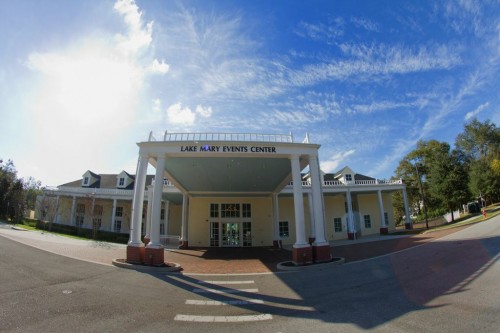 The location. Gorgeous place, the perfect setting for a wedding!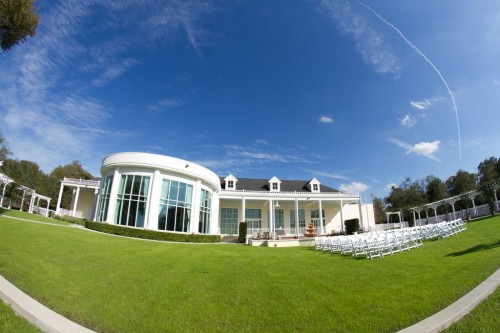 The ceremony set up was beautiful. And TYJ it was a lovely day, not too hot, not too cold, just right.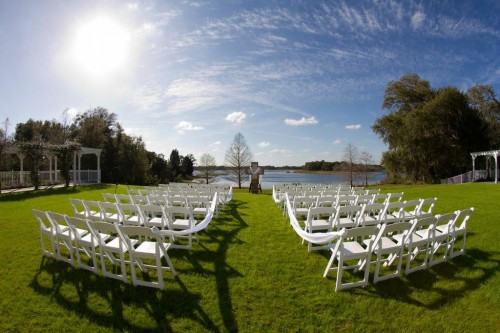 Ready for the ceremony to begin!
Handmade cross created by my hunny for us to get married in front of. What you can't see is that it also plugs in and the lighter colored section lights up like it's on fire.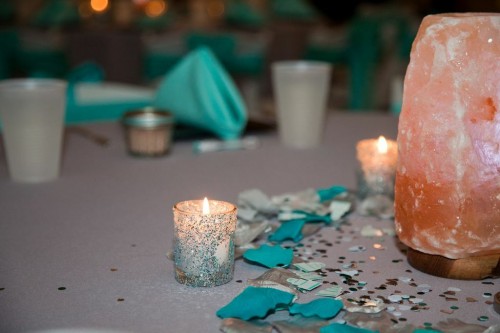 The reception tables… the salt rock lamps were another tribute to my Dad as he loved rocks!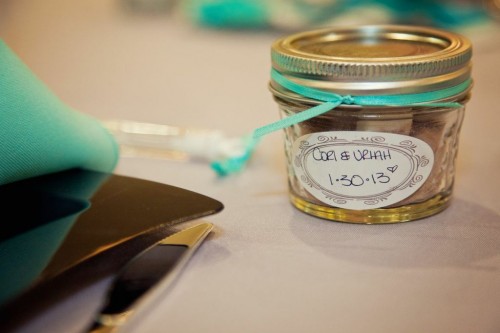 Wedding favors… hot cocoa mix! Yummy.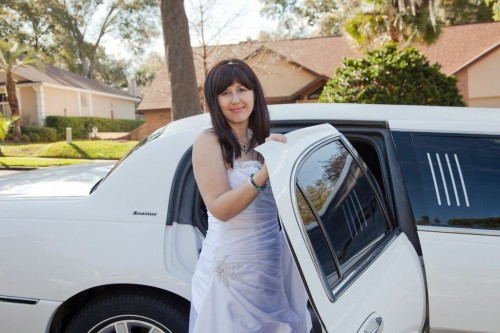 Headed out in the limo… ready to get hitched! hehe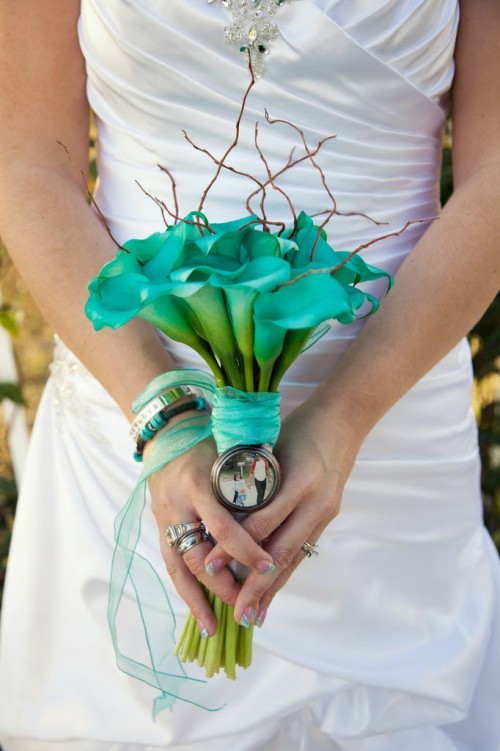 The bouquet made extra special by the gift from my Mom. And of course showcasing my Daddy's Harley ring!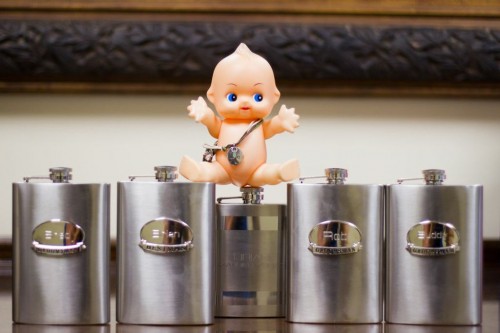 Of course the event wouldn't be an event without Lucy. Her journey started on my hubby's bachelor party cruise. So the big day had to include Lucy.
She makes cameo's all throughout the wedding photos. You can also check out more of her journeys on her very own Facebook page… like it if you want to follow her shenanigans!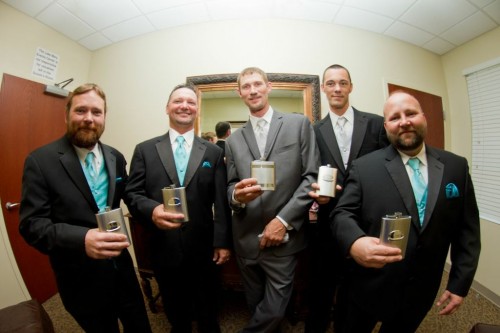 The boys, waiting for the ceremony to begin and for Moi to arrive.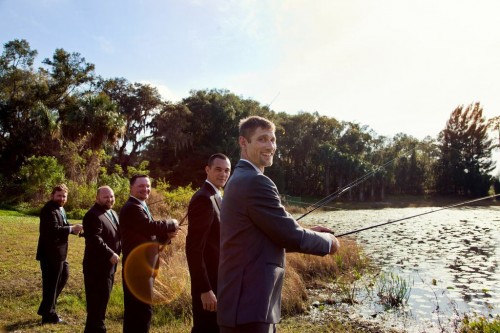 And of course, boys will be boys. lol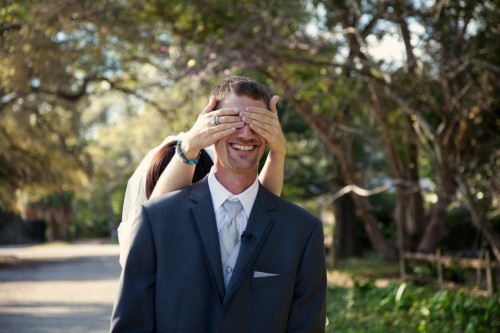 First look photos. A little non-traditional, but ya'll know me! It gave us a private moment to see each other before the ceremony and get great shots of it all.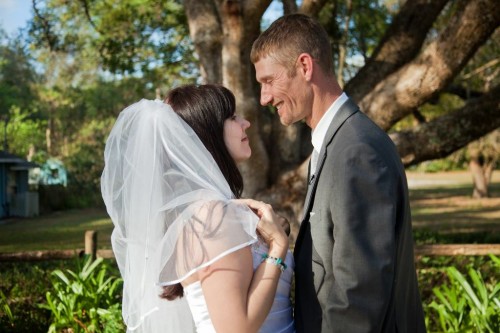 The wind was blowing, I had to hold down my veil or it would have blown away!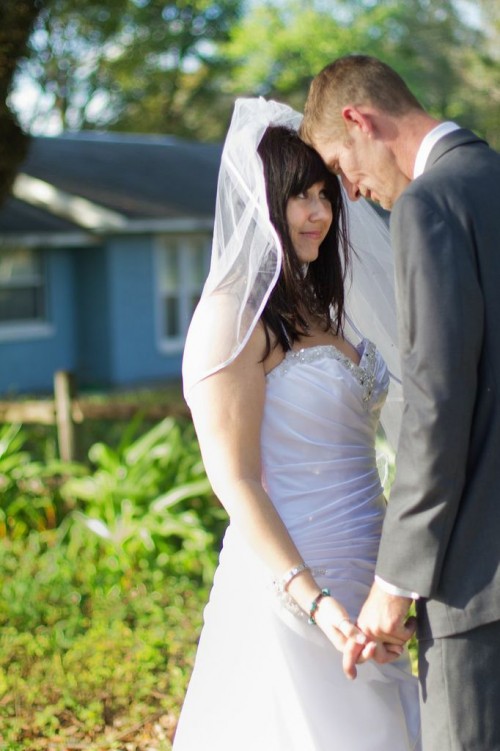 He was trying to peek down my dress yet again, can you tell? lol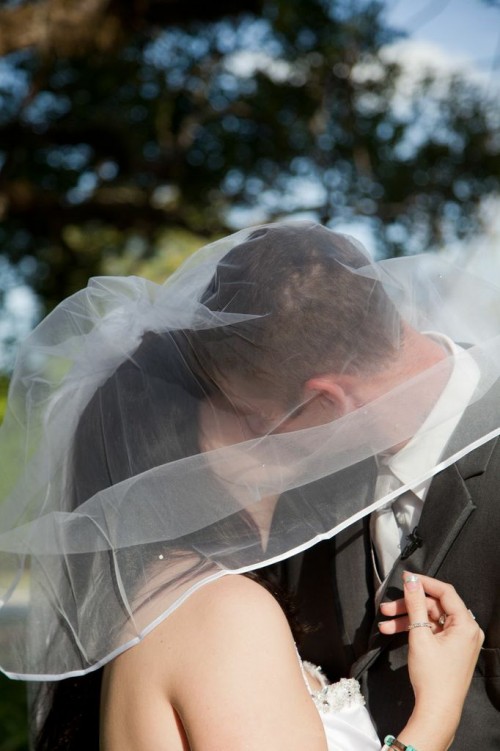 First kiss of the day!
The ring bearer with his little homemade birdy nest.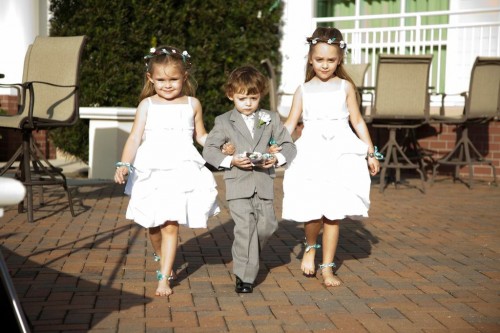 Escorted by his cute little bell girls. Instead of flowers we tied bells around their ankles and wrists so they jingled when they walked.
So began the processional with all the crew, jammin' to the song Let's Get Married by Jagged Edge and RunDMC.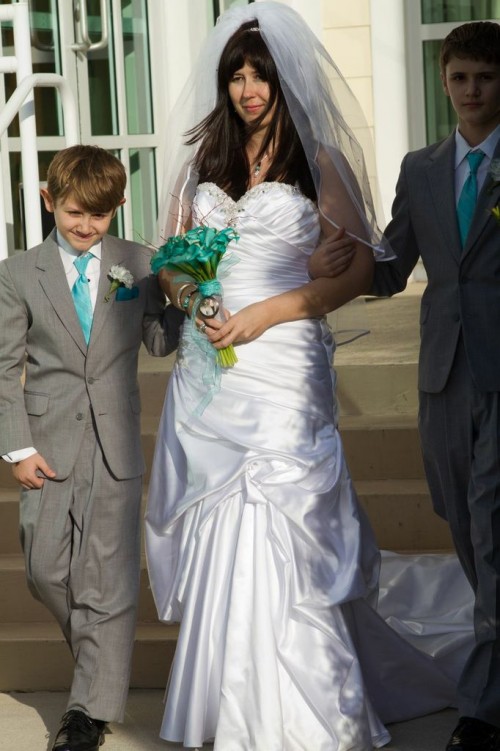 My handsome young men walking Mom down the aisle… this time to the song Marry Me. Originally performed by Train, but we did the Martina Mcbride version… seemed more fitting.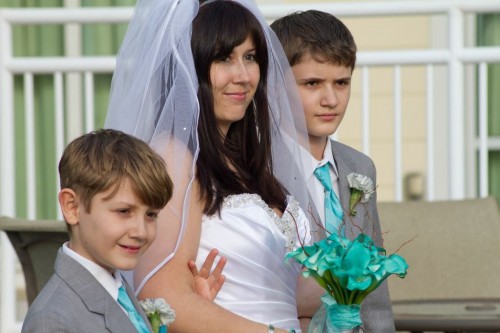 They look so handsome and grown!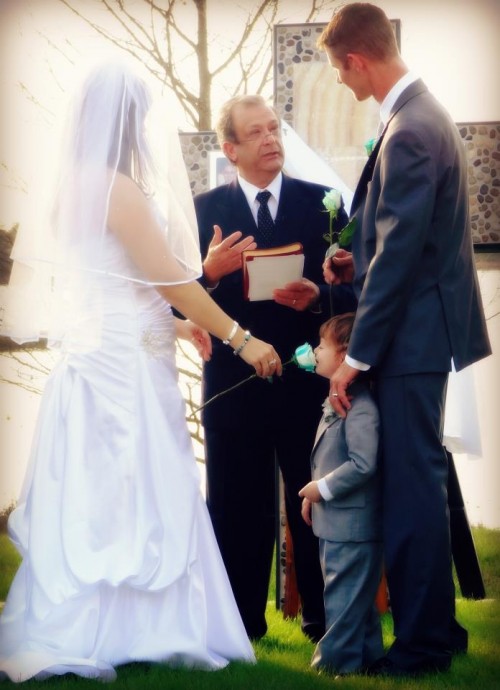 Beautiful shot. This is when our little guy ran up to run circles around Daddy, and then to distract him and keep him quiet I put the rose down to his nose to sniff. It was too adorable.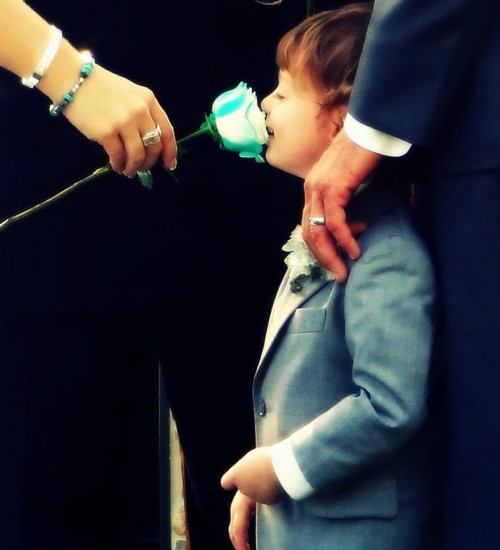 Close up, smelling the rose. These last two shots were actually snapped by an old friend of mine, Eric Robles of Lunar Lights Photography, and then added edits by me for the hazy, soft effect.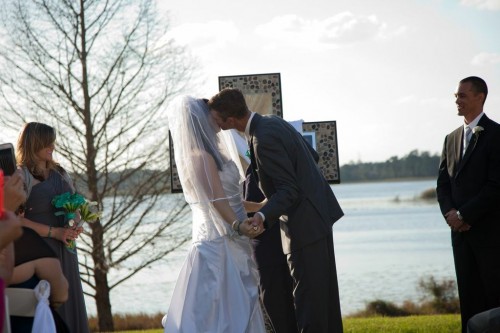 And it's done! Married at last! This would be the second kiss of the day. 🙂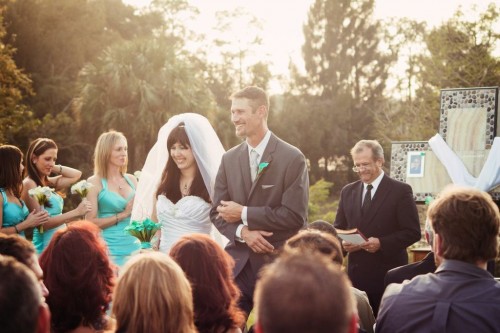 Time for the recessional march. We grooved to the song Just Got Married by Q-Blaque. Hey, I had a theme going with my song choice… couldn't mess it up!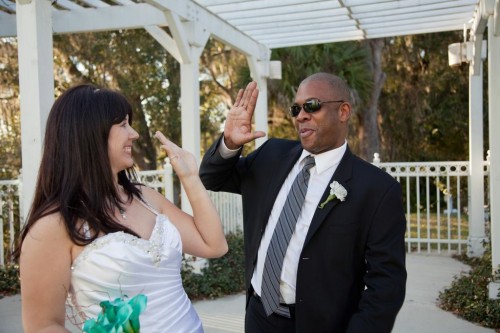 Hi-fivin' my favorite Godfather… he flew in just to be there for our special day.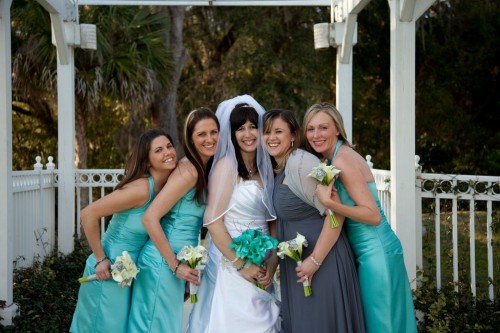 Me and my gals… don't they all look beautiful?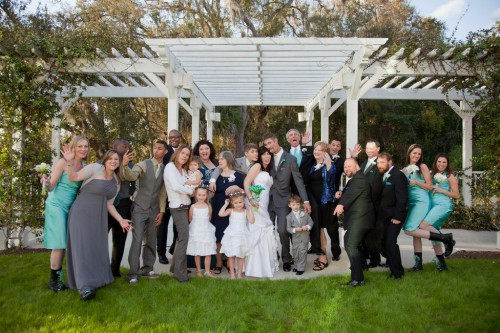 I call them the Goof Troop. You get me, right? hehe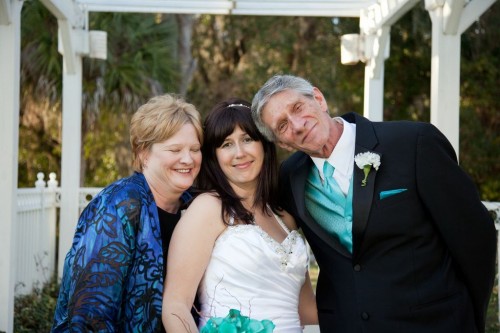 Mom and Dad… my new in-laws. Doesn't hubby look just like his Daddy? lol I call them the Twinkies.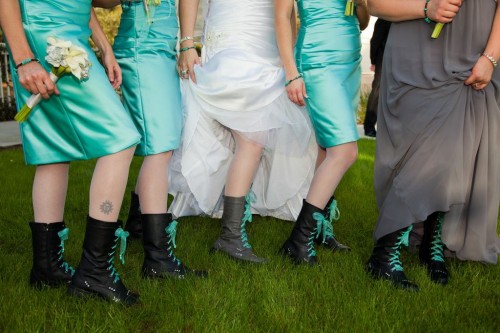 Did I mention me and the gals wore combat boots with our dresses? Bedazzled, beribboned, and initialed of course.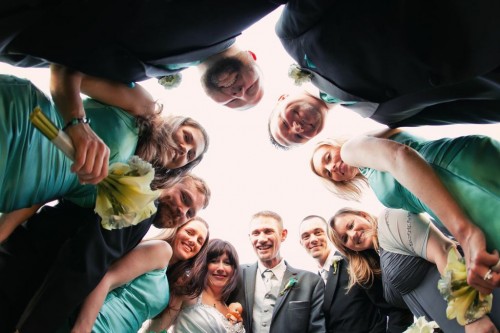 The whole crew, and of course… never complete without Lucy!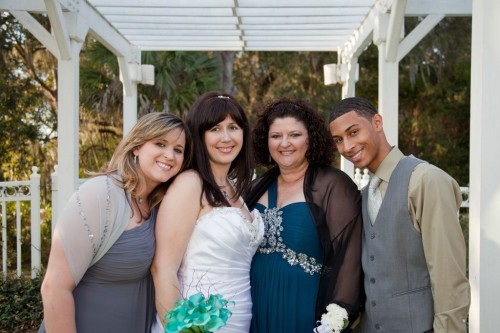 My Mama and sister and brother. Swanky, swanky. 🙂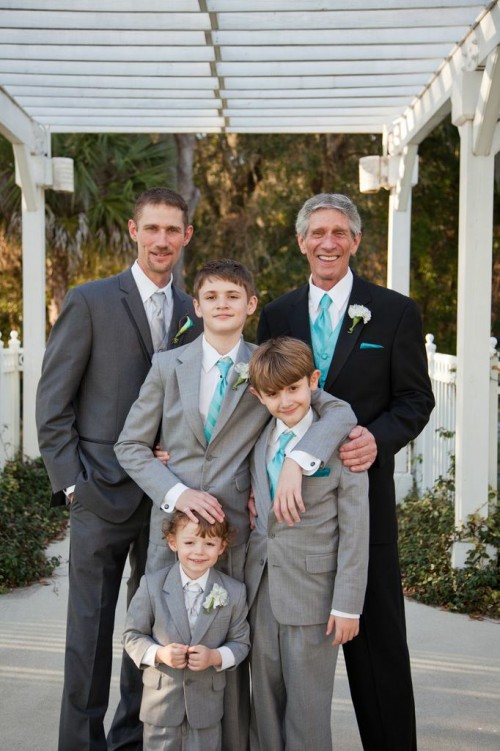 The Bukowski Boys. Can't tell they're related can you?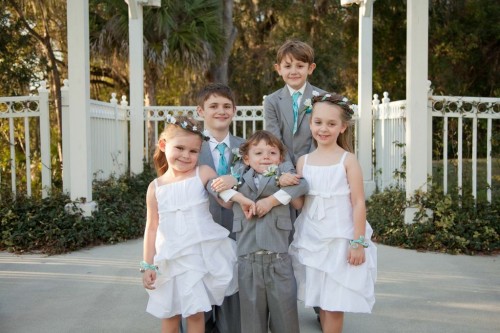 The adorable little monkeys of the wedding. Our little guy looks pretty proud to have two girls on his arms. lol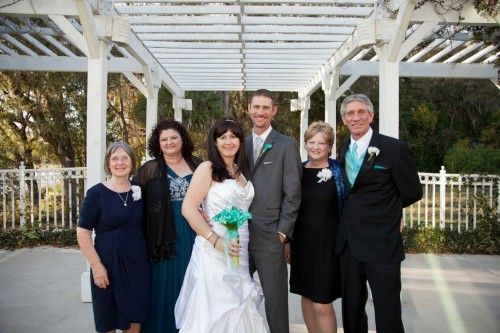 No formals are complete without a shot with just the 'rents. In our case Uriah's 'rents, and my Mom and Granny. I did mention non-traditional right? 😉
Thought this shot was adorable. My hubby is around 6'5 and my Granny stops right about 5 feet. It's like picking up one of the kids!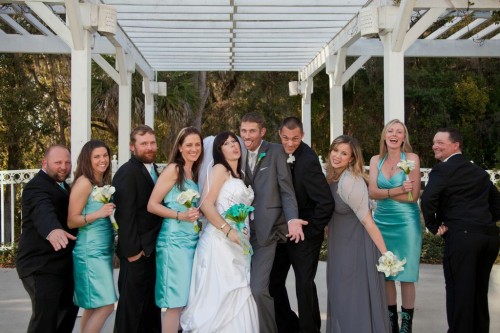 Told you these guys were crazy. It's why they are so loved. hehe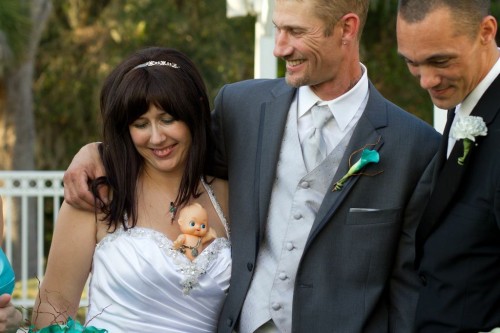 Lucy was having a blast, can you tell?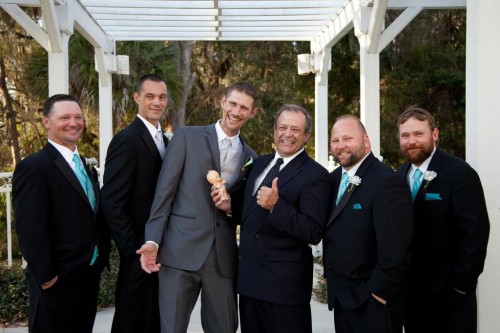 Even our Pastor Nathan from Cornerstone Church got in on the fun with Lucy. Told you that girl loves some shenanigans! If you live in the area and are looking for an awesome Pastor with a sense of humor, come visit.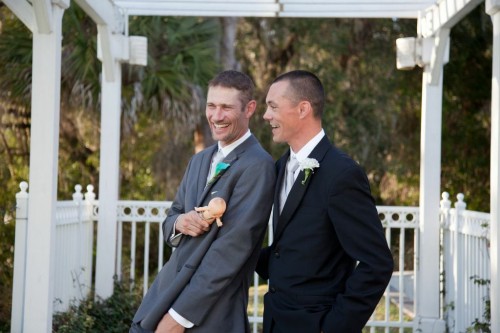 Hubby and the best man having a laugh with Lucy.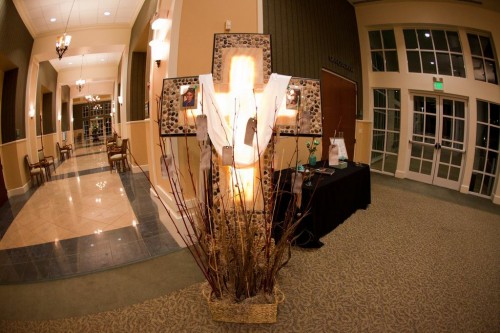 This was our "in lieu of guest book" idea. We made little tags to fill out and hang on the branches instead.
Note for anyone thinking of doing something other than a guestbook… make sure you make an announcement and explain the concept! We didn't so not everyone knew to fill out a card. lol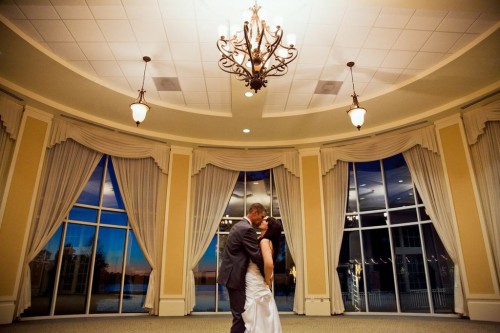 Sneaking outside for some quiet time and sunset photos.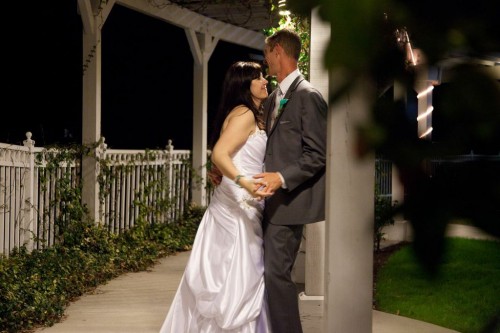 A little private time, dancing on the gazebo for a few minutes.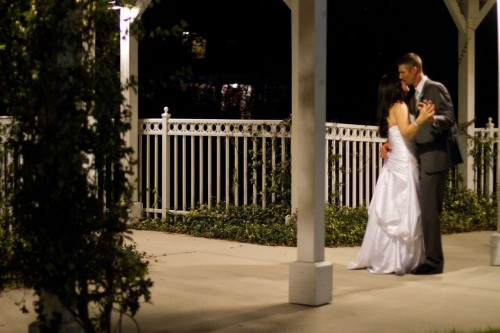 So pretty out here at night!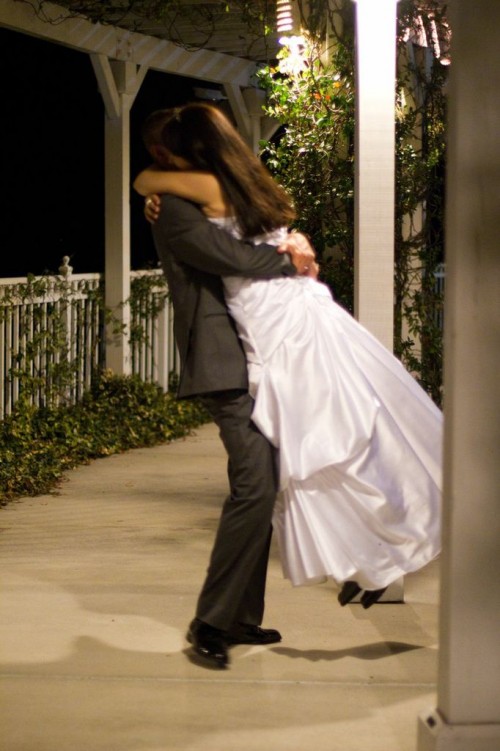 TYJ he didn't drop me. LOL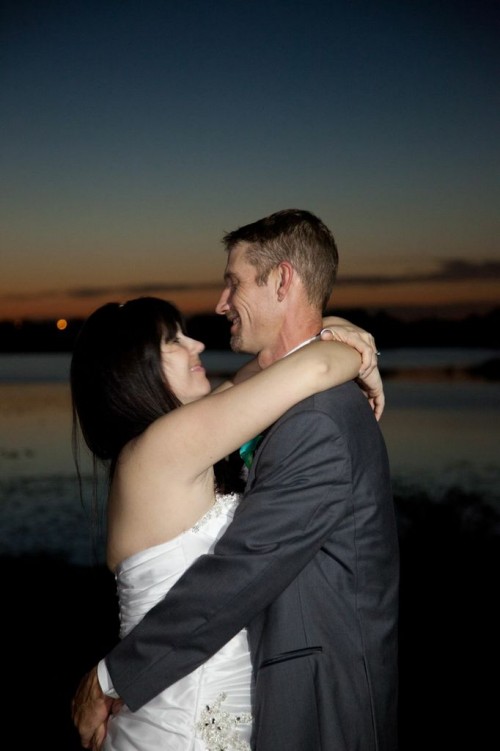 Sunset photos, it was so beautiful!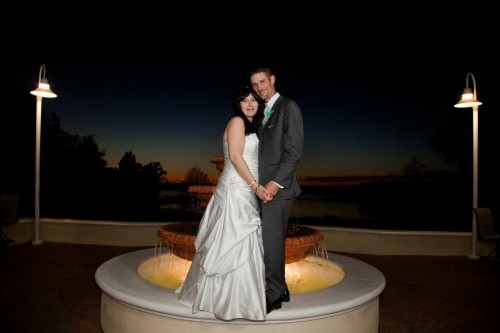 Mr. Handsome, looking all tall and GQ. hehe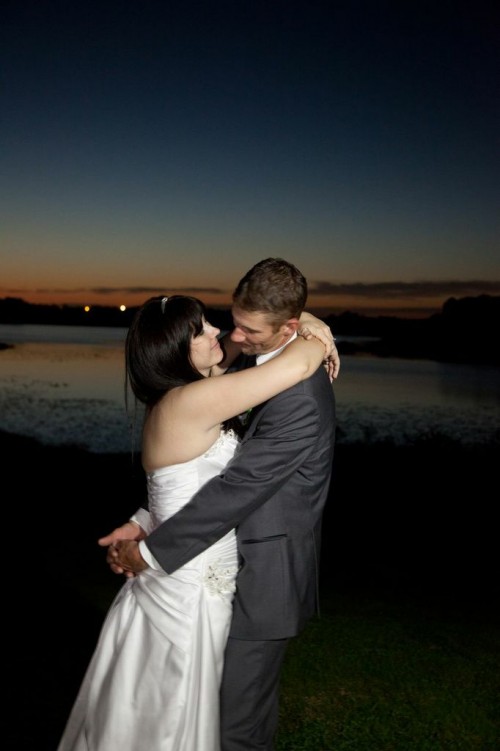 Beautiful day so far… time to get the party started!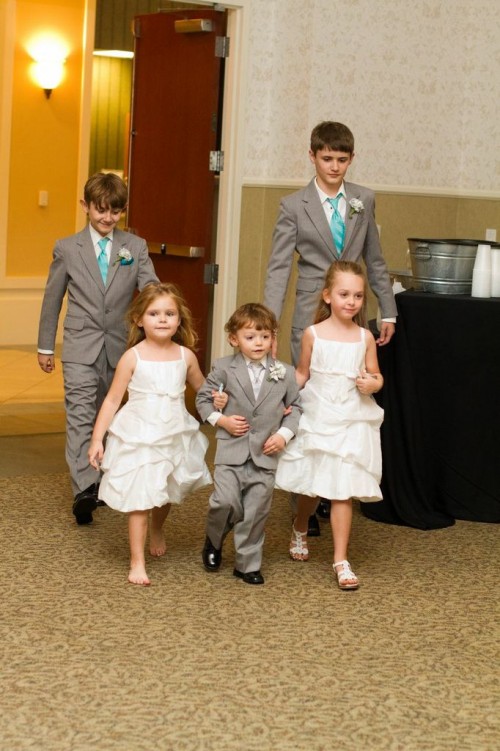 Introducing the 5 monkeys to the crowd.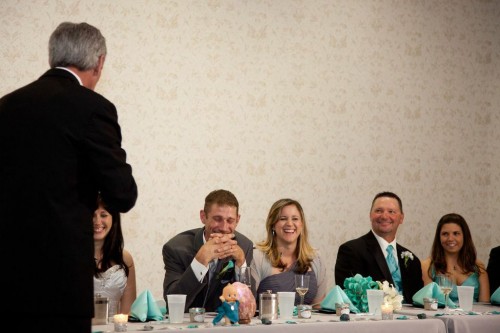 An emotional moment between my hunny and his Dad. They've only recently reconnected after some 30+ years.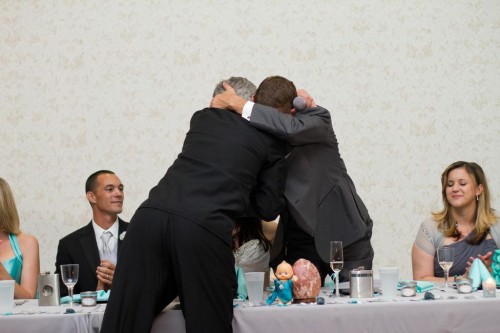 It was a good moment. 🙂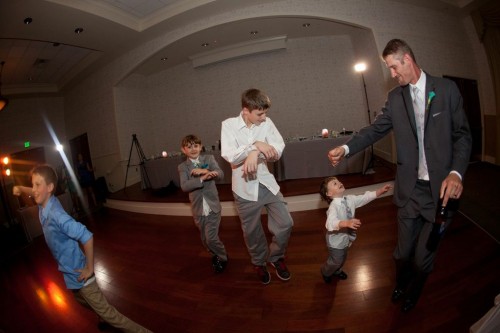 The boys, getting their dance on.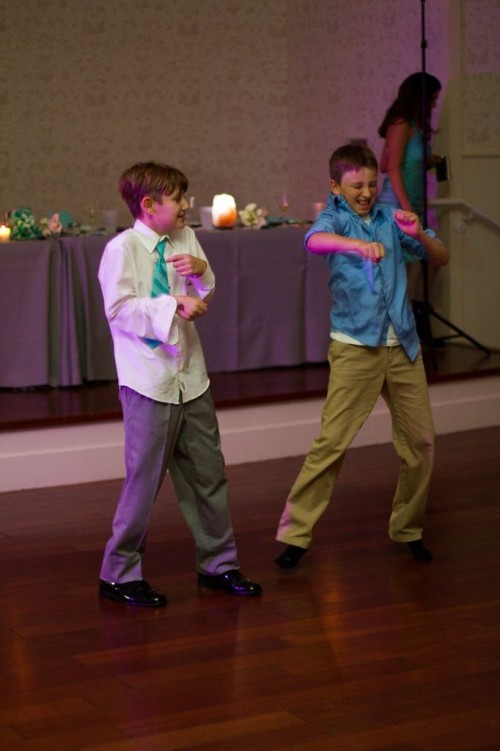 Dancing little dervishes these two were. Too funny!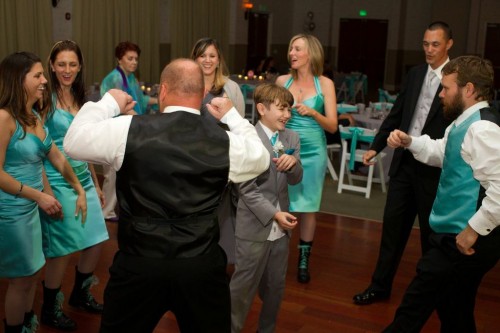 Dervish one schooling his uncles on how to dance.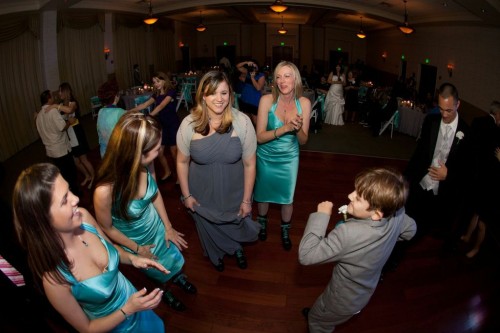 Then schooling his aunts!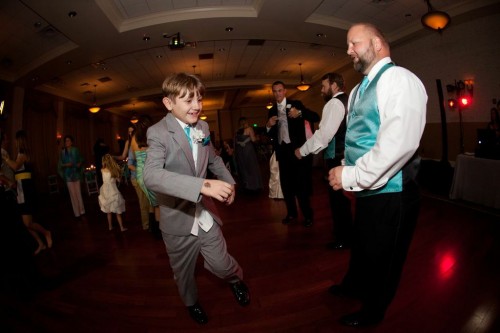 And of course had to school his uncle Rob just a little more to keep it hoppin'.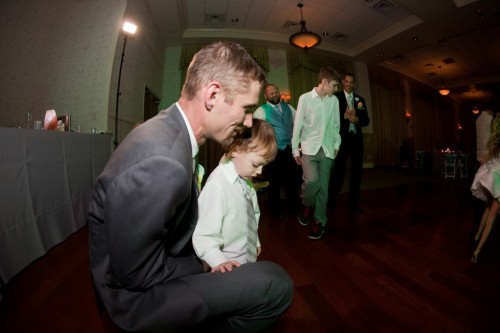 Of course then my oldest had to step in and show off his dance moves.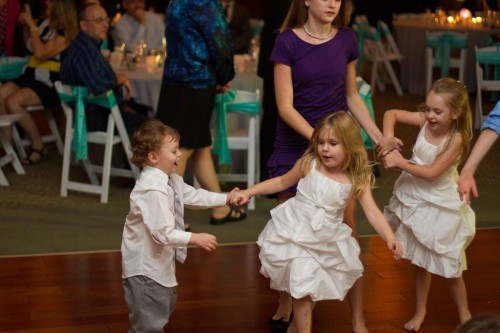 And our youngest had to show off his moves to the ladies. These boys all give me grey hair. hehe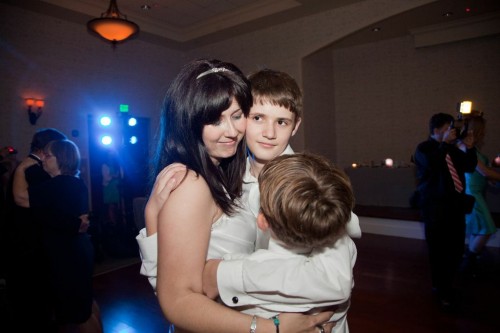 Dancing with my bebes. Except they aren't so much babies anymore! ::sniffle::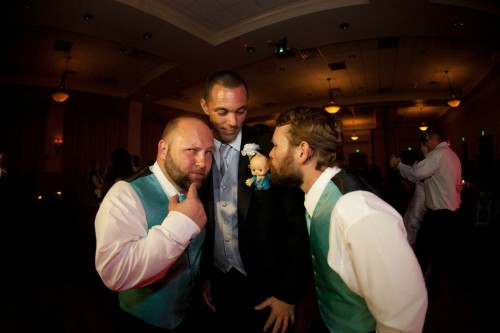 Lucy couldn't wait to get on the dance floor. Wild woman.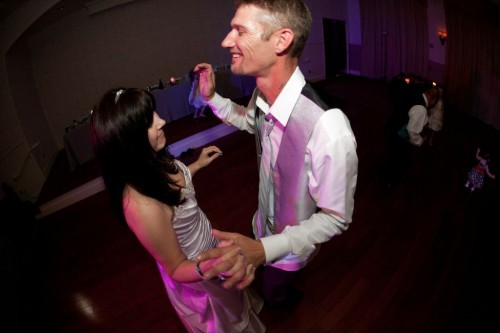 Rockin' around the dance floor with my hubby. Kinda hard to rock in that dress. LOL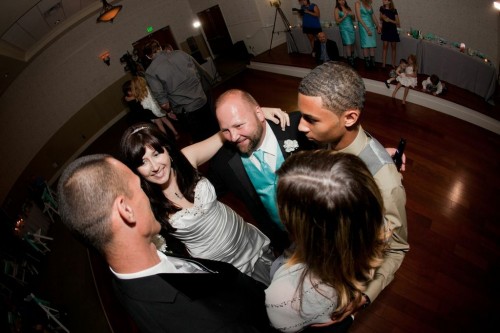 This was more my speed for the night.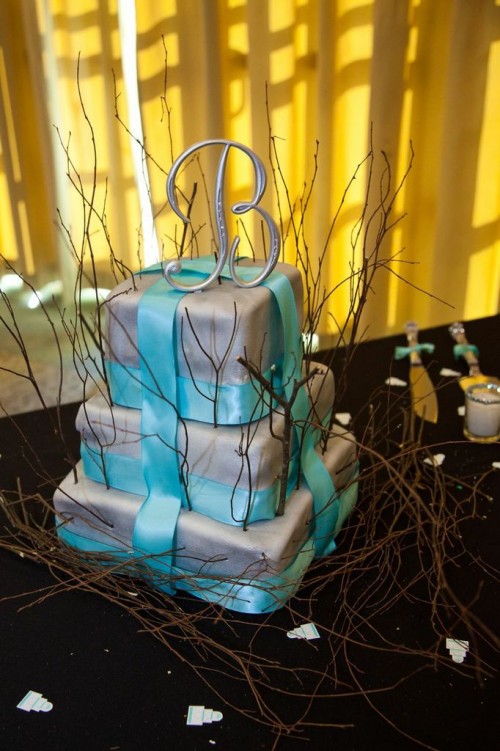 Cake time! A friend of ours made this for us… it looked so good!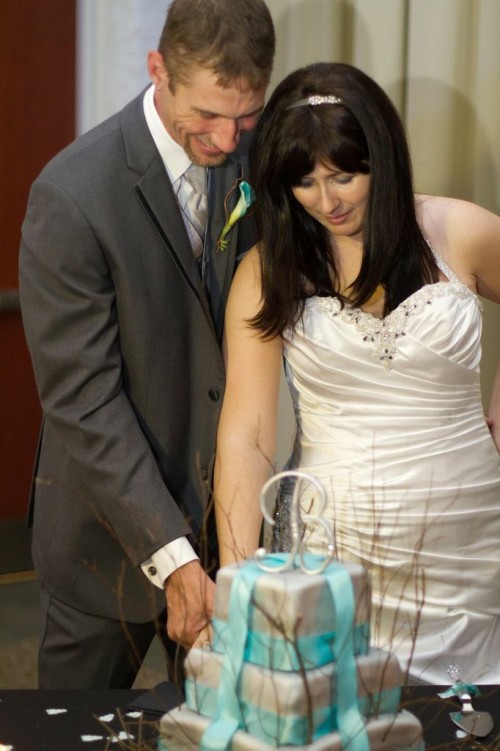 Can you tell we are not very good at cutting the cake together? #weshouldprobablyworkonthat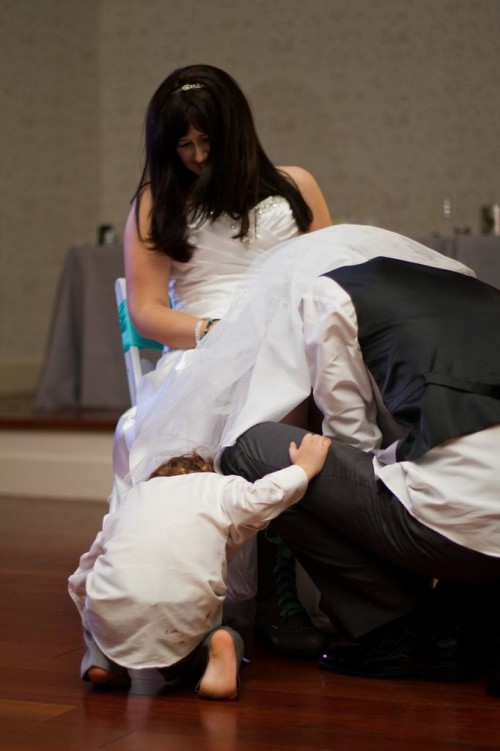 Time to take off the garter! Our little guy was wondering what the heck Daddy was up to under Mimi's dress. He decided to help a Daddy out.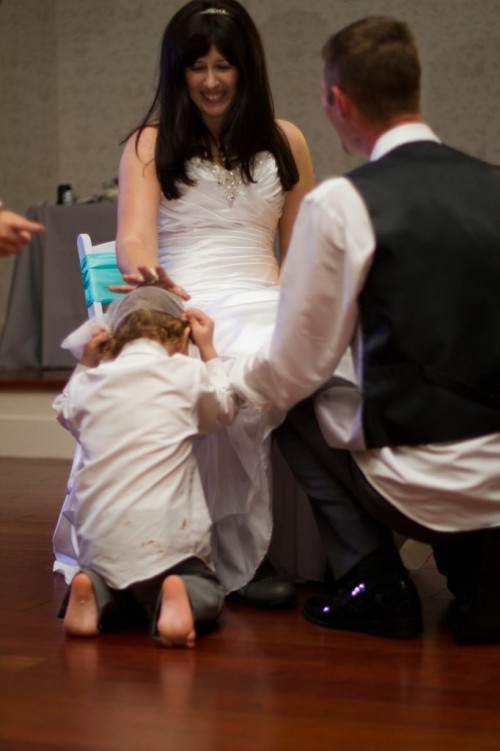 He even tried to go under my dress with Daddy!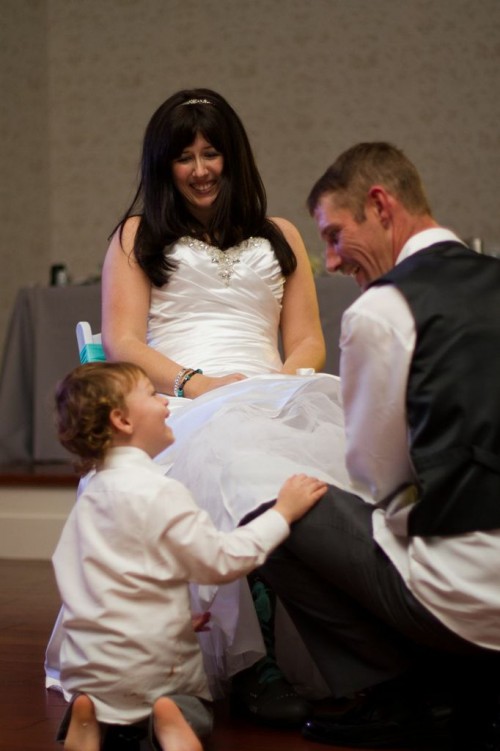 Then he thought it was pretty funny we all thought he was so funny. Lmao
Kids are too dang cute for their own good sometimes.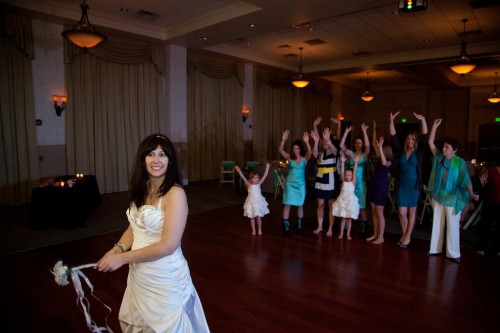 Then it was time for the bouquet toss and the garter toss. Of course my sister (recently engaged herself) caught it because all the ladies conspired to make sure she caught it. lol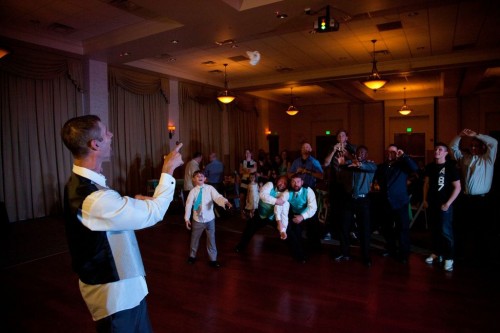 Then the boys got ready to catch the garter.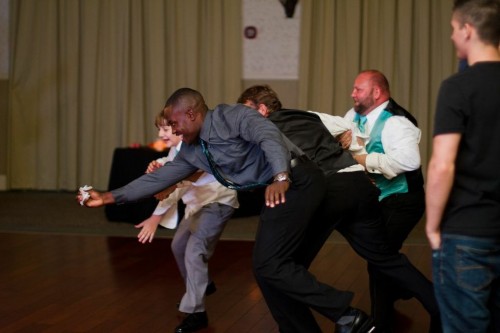 Needless to say the guy dive bombing to catch it was my future brother. 🙂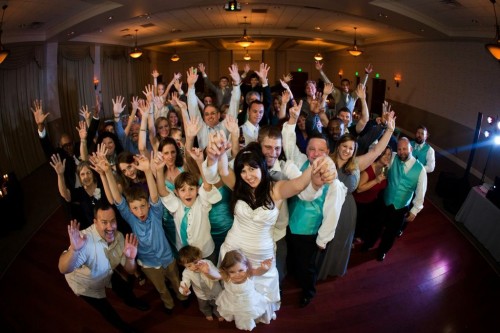 All great stories (and parties) come to an end, and before we knew it, our night was almost over.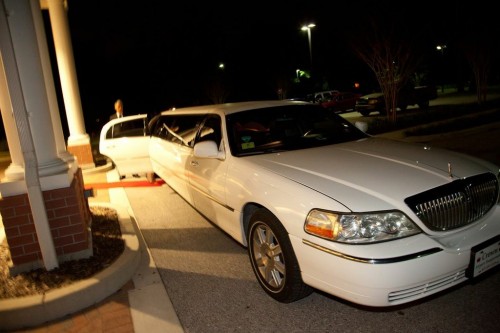 Time to load up and head off to our honeymoon night.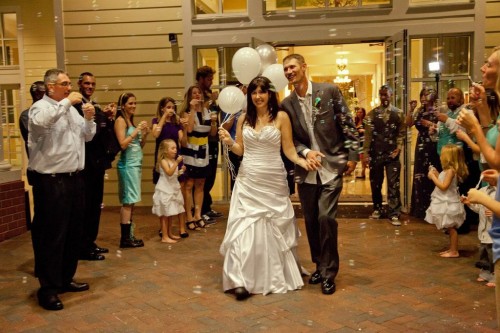 The send off, replete with bubbles, cheering, and balloons. The balloons were for my Daddy, to send up to heaven and say hi.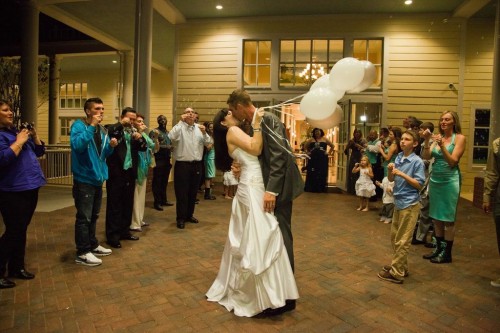 Any good send off deserves a final kiss right?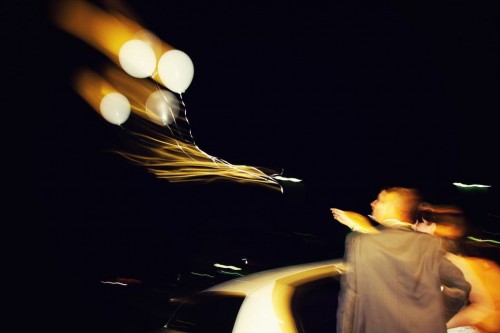 And up and away the balloons go… the night is ended… our married life officially begins.
Hope ya'll enjoyed the photos dear readers!
Thank you for all of your support of #BGB.
XoXo!